Då var vi snart halvvägs i den här tredje säsongen av Nevergreens. Inget tyder på att utbudet är på väg att sina i alla fall.

Temaämnet den här gången är Välgörenhet. Det får väl erkännas att det är lite slätstruket musikaliskt men det känns ändå kul att dokumentera skuggsidan av detta 80-talsfenomen. För det spelade ju egentligen ingen roll hur katastrofen såg ut och dess omfattning, musikvärldens naturliga reaktion var att gå in och sjunga allsång i en studio.
Så klart finns det välgörenhet idag också, men inte på samma låtbaserade sätt som då. Hade det varit 1985 idag hade vi haft fem olika allsångslåtar till förmån för flyktingkatastrofen.
I temaämnet får vi tugga i oss dels lite alternativa We Are the World-varianter som försvann i bruset, och dels välgörenhetsinglar för andra ändamål som passerade obemärkta förbi.
Glöm inte heller att rösta på dina tre favoritlåtar förresten!
Välkomna!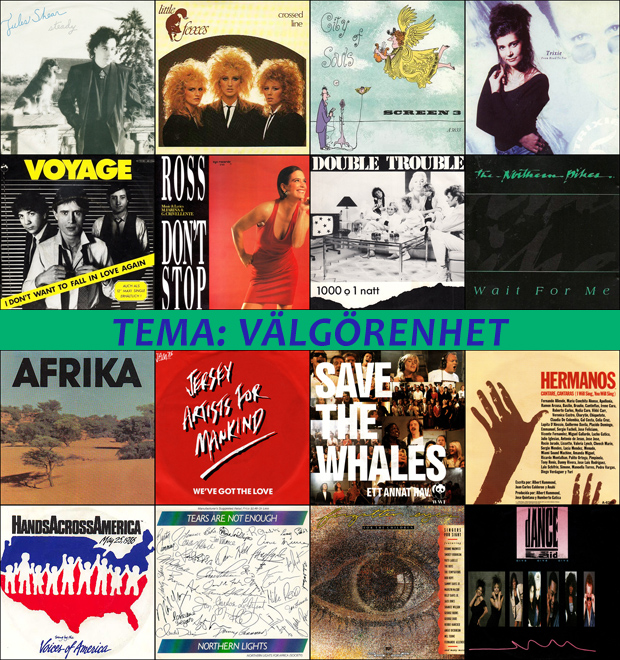 Låtlista:
Voyage – I Don't Want To Fall In Love Again (Sonet; 1980)
Brilliant – Love is War (Wea; 1986)
Jules Shear – Steady (EMI; 1985)
Double Trouble – 1000 och 1 Natt (Sonet; 1985)
Screen 3 – City of Souls (Epic; 1983)
Little Foxes – Crossed Line (Phonogram; 1983)
Greg Copeland – Used (Geffen; 1982)
Trixie – From Head To Toe (Eurozont; 1989)
Ross – Don't Stop (Zyx Records; 1987)
Northern Lights – Tears Are Not Enough (Columbia; 1985)
Hermanos – Cantare, Cantaras [I Will Sing, You Will Sing] (CBS; 1985)
Danske Kunstnere – Afrika (Genlyd, 1985)
Voices of America – Hands Across America (EMI; 1986)
Singers For Sight – Forgotten Eyes [For the Children] (Motown; 1989)
Jersey Artists For Mankind – We Got the Love (Arista; 1986)
Hear'n'Aid – Stars (Vertigo; 1986)
Dance Aid – Give Give Give (Mega Records; 1987)
Peace On Earth – Peace On Earth (Solid State Records; 1986)
Save the Whales – Ett Annat Hav (Wea; 1989)
Northern Pikes – Wait For Me (Virgin; 1988)
[mixcloud https://www.mixcloud.com/vladislavbonita/nevergreens-s03e04/ width=660 height=240 hide_cover=1 hide_tracklist=1]
Hjälp mig rösta fram den bästa låten i Nevergreens S03E04
Du får rösta på tre olika singlar per program.