Då ligger en ny samling avdammade skivor vid skivspelaren redo för ett återupptäckande.
Temaämnet blir en repris den här gången. Ämnet 'Uppföljare' verkade gillas av er lyssnare i våras, och eftersom ämnet är en aldrig sinande källa så testar vi att köra en runda till. Det blir så klart uppföljare från kontinentala one-hit-wonders men också lite krampaktiga försök att få till en andra hit från lite mer etablerade artister.
Vanliga programmet rymmer lite brittisk soulpop av varierande karaktär, västtysk syntpop, USA-klingande brittisk radiopop och så klart en massa annat.
Glöm inte heller att rösta på dina tre favoritlåtar här nedan!
Välkomna!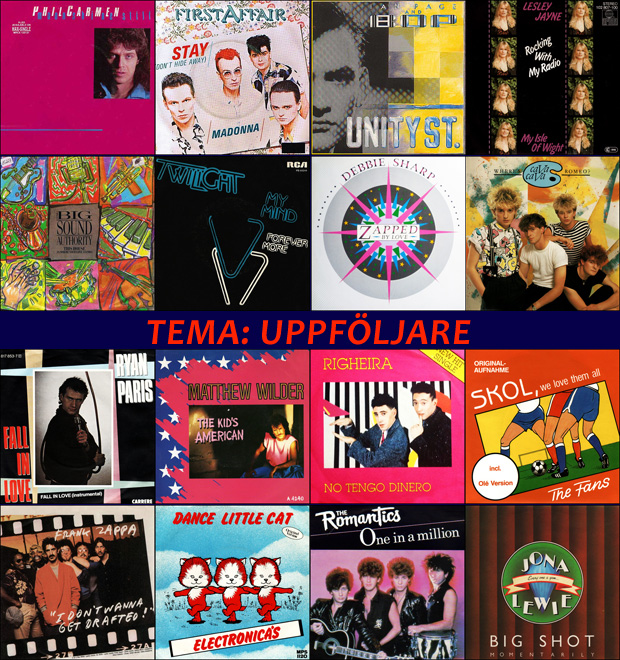 Låtlista:
Debbie Sharp – Zapped By Love (Cooltempo; 1985)
Bop and Ian Page – Unity Street (Parlophone; 1984)
Robert Linn – Let's Do Holidays (EMI; 1984)
Lesley Jayne – Rocking With My Radio (Ariola; 1981)
Thirteen Moons – A Moment In Time (Wire; 1989)
Phil Carmen – Moonshine Still (Metronome; 1985)
Cava Cava – Where's Romeo? (Regard Records; 1982)
Twilight – My Mind (RCA; 1985)
Big Sound Authority – This House [Is Where Your Love Stands] (MCA; 1985)
Tema Uppföljare
Jona Lewie – Big Shot Momentarily (Stiff Records; 1980)
Frank Zappa – I Don't Wanna Get Drafted (CBS; 1980)
Electronicas – Dance Litte Cat (Music Partner; 1981)
Matthew Wilder – The Kid's American (Epic; 1983)
The Romantics – One in a Million (Epic; 1983)
Righeira – No Tengo Dinero (K-Tel; 1984)
Jon & Vangelis – State of Indepedence (Polydor; 1984)
Ryan Paris – Fall in Love (Carrere; 1984)
The Fans – Skol, We Love Them All (Zyx Records; 1989)
First Affair – Stay [Don't Hide Away] (Polydor; 1985)
[mixcloud https://www.mixcloud.com/vladislavbonita/nevergreens-s03e05/ width=660 height=240 hide_cover=1 hide_tracklist=1]
Hjälp mig rösta fram den bästa låten i Nevergreens S03E05
Du får rösta på tre olika singlar per program.