Två veckor har redan passerat och dags för höstens andra avsnitt. Händelserika veckor med det tekniska. Soundcloud har gjort rättighetsräder och tagit bort massvis med Nevergreens-avsnitt (dock inte hela kanalen…än) så programmet har tagit flykten till snarlika sidan Mixcloud. Där finns numera alla avsnitt uppladdade för lyssning, även de som tidigare plockats bort av Soundcloud. Följ spellänken nedan så hittar ni rätt om ni inte redan gjort det.

Den här gången kallar vi temaämnet för Överlevare. Med det menar vi artister som var superstjärnor på 60- och 70-talet och gjorde mer eller mindre krampaktiga försök att modernisera sig på 80-talet.
Övriga programmet bjuder på en mystisk visselskiva, engelsk prettopop, latin-freestyle, Östen Warnerbrings son och så klart en massa annat.
Glöm inte heller att rösta på dina tre favoritlåtar förresten!
Välkomna!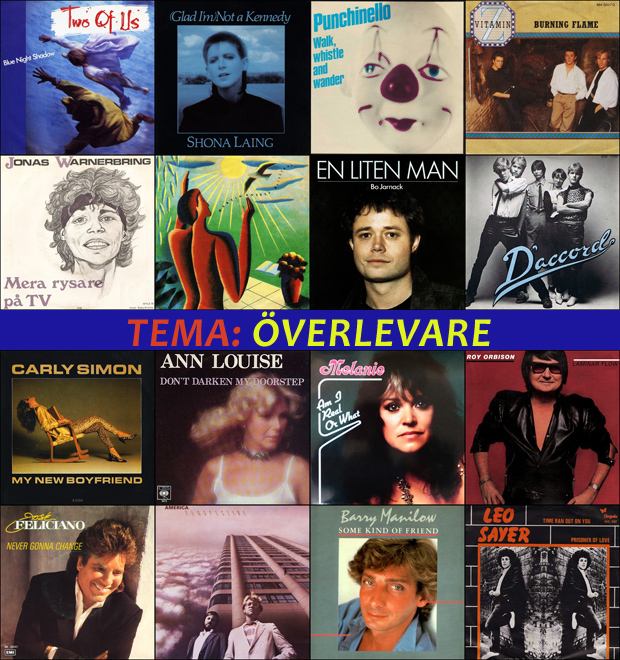 Låtlista:
Toy Matinée – Last Plane Out (Reprise; 1989)
Martin Ansell – Brilliant (Island; 1986)
Punchinello – Walk, Whistle and Wander (CBS; 1982)
Two of Us – Blue Night Shadow (Blow Up; 1985)
April – Right On Time (Metropolis; 1989)
Vitamin Z – Burning Flame (Mercury; 1984)
Jonas Warnerbring – Mera Rysare på TV (My Label; 1982)
Bo Jarnack – En Liten Man (Epic; 1983)
D'accord – Ge Mig Mer (SOS; 1982)
Leo Sayer – Time Ran Out On You (Chrysalis; 1980)
America – See How the Love Goes (Captiol; 1984)
Melanie – Private Parts (Amherst Records; 1985)
Roy Orbison – Easy Way Out (Asylum; 1979)
Dave Edmunds – Information (Arista; 1983)
The Crickets – T-Shirt (CBS; 1988)
Dion – Drive All Night (Arista; 1989)
Ann-Louise Hanson – Don't Darken My Doorstep (CBS; 1979)
Barry Manilow – Some Kind of Friend (Arista; 1983)
Carly Simon – My New Boyfriend (Epic; 1985)
José Feliciano – Never Gonna Change (EMI; 1988)
Shona Laing – (Glad I'm) Not a Kennedy (Epic; 1988)
[mixcloud https://www.mixcloud.com/vladislavbonita/nevergreens-s03e02/ width=660 height=208 hide_cover=1 hide_tracklist=1]
Hjälp mig rösta fram den bästa låten i Nevergreens S03E02
Du får rösta på tre olika singlar per program.