Nu börjar säsongen lida mot sitt slut. Sjunde avsnittet är det dags för och även höstens näst sista ordinarie program innan det är dags att summera era favoriter i topplistan i december. Många låtar delar på samma poäng än så länge, så glöm inte att göra era röster hörda och rösta så listan får bättre spridning. Superlätt. Bara scrolla ner här lite och kryssa i rutona.
Temaämnet denna blir ytterligare ett med geografisk anknytning. För trots att man kan tycka att USA och England har en världsmarknad inom popen så finns det många exempel på band, artister och låtar som blivit gigantiska i respektive land men aldrig tog sig utanför hemlandet. Tio exempel på det ska vi lyssna på, fem från vardera land.
I vanliga Nevergreens blir det engelsk europop, för sen syntpop, kanadensisk new wave och det svenska fröet till en brittisk superhit från 1988. Bland annat.
Glöm inte heller att rösta på dina tre favoritlåtar här nedan!
Välkomna!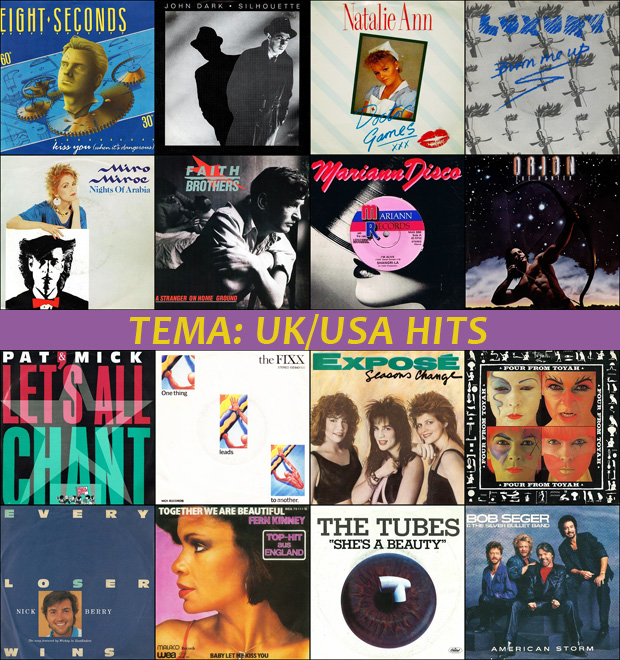 Låtlista:
Elvis Brothers – Hidden in a Heartbeat (Capitol; 1983)
Luxury – Burn Me Up (Polydor; 1984)
Miro Miroe – Nights of Arabia (CBS; 1982)
Shangri-La – I'm Alive (Mariann; 1980)
John Dark – Silhouette (EMI; 1983)
Eva & the Playboys – Kurragömma (EMI; 1983)
Eight Seconds – Kiss You [When It's Dangerous] (Polydor; 1986)
Natalie Ann – Doctor Games (Spellbound; 1984)
Orion the Hunter – So You Ran (Portrait; 1984)
The Tubes – She's a Beauty (Capitol; 1983)
The Motels – Only the Lonely (Capitol; 1982)
Billy Vera & the Beaters – At This Moment (Polydor; 1987)
Exposé – Seasons Change (Arista; 1988)
Bob Seger & the Silver Bullet Band – American Storm (Capitol; 1986)
The Fixx – One Thing Leads to Another (MCA; 1983)
Fern Kinney – Together We Are Beautiful (Wea; 1980)
Pat & Mick – Let's All Chant (PWL; 1988)
Hazel O'Connor – Eighth Day (A&M; 1980)
Toyah – It's a Mystery (Safari; 1981)
Nick Berry – Every Loser Wins (BBC; 1986)
Faith Brothers – A Stranger On Home Ground (Siren; 1985)
[mixcloud https://www.mixcloud.com/vladislavbonita/nevergreens-s03e07/ width=660 height=240 hide_cover=1 hide_tracklist=1]
Hjälp mig rösta fram den bästa låten i Nevergreens S03E07
Du får rösta på tre olika singlar per program.